The Best Way to Pay Off Five Different Types of Loans
At some point or another, everyone takes out a loan. In fact, most of us will take out three very common types: student loans, auto loans and home loans. The other very familiar form of debt comes courtesy of either credit cards and bad credit loans. While borrowing money this way doesn't need to be a bad thing, many would like to pay off the balance ASAP. The problem is treating these five forms of debt the same exact way when trying to do so.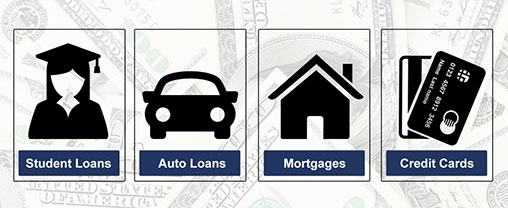 (Free to use photo if a link back to us is provided)
Student Loans
They seem like such good ideas at the time, but if you're like most college graduates, your student loans are a bittersweet reminder that, while you may have had fun during these formative years, you're now paying for it every month, usually for well over a decade.
Student loans are the only form of debt you can't get rid of, even if you declare bankruptcy. Therefore, it would be a good idea to make paying off the balance a priority.
If it's not too late, don't take the deferment period. Instead, start repaying it immediately. Secondly, don't make only the minimum payments. Anything you can pay above the minimum required will go directly to the principal. Look at your budget and see how much you could afford to add to your monthly payment to move up the end date on that loan.
Don't forget to periodically check your interest rate. If you took out federal student loans, you probably have a competitive rate. But if you have private loans, particularly those with a variable interest rate, you may want to consider refinancing. This can also help if you're having trouble repaying your loans and want to lower your monthly payments by extending the repayment period.
Auto Loans
The conventional advice on auto loans is to round up your monthly payment to the nearest hundred so you can be free and clear a lot sooner. That's not necessarily bad advice, but check first to make sure you're not going to be penalized for paying off your loan earlier. This is a real penalty that many well-intentioned people have found out about the hard way. Once you've incurred it, there's nothing you can do.
Also, if you can't afford rounding up like that on each payment, then try to make one extra payment each year. Another alternative is to find a low-interest credit card or personal loan, especially if you're close to paying off your full balance. Some credit cards even let you consolidate auto loan debt with a low or 0% introductory offer. Just be sure you can pay it all off before your rate jumps after the promotional period ends.